Mineral Sleuthing to Identify the Mystery Minerals!
Description
Geology Rocks! is a very hands on exploration of Rocks, Minerals & the fun (and frustration) of rock hunting appropriate for 4th and 5th grade students.
Armed with some background knowledge in Mineral Identification techniques and complete instructions on how to complete the activity, students are presented with a number of "mystery minerals" which they attempt to identify by the classic methods of field geology mineral identification.
During the mineral sleuthing portion of the program, students are also encouraged to view, pick up, look at, ask about etc our own extensive display of minerals & elements, including some very exciting fluorescent minerals, optical curiosities and even gold.
Core Framework Standards Addressed
Scientific and Engineering Practices
1. Asking questions and defining problems
3. Planning and carrying out investigations
4. Analyzing and interpreting data
6. Constructing explanations
7. Engaging in argument from evidence
8. Obtaining, evaluating and communicating information
Disciplinary Core Ideas
ESS1: Earth's place in the Universe.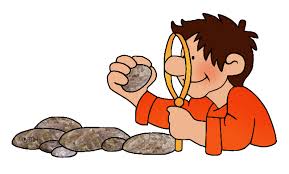 Program Rates
| Number of Kids | One Program | 2nd Program* | 3rd Program* |
| --- | --- | --- | --- |
| Up to 25 | $175.00 | $150.00 | $140.00 |
*Same day and location
Please contact us to discuss groups over 25.
Important - Program Confirmations!
If you have not received an email confirmation (with invoice) from our program director within 72 hours of your Program/Event please call 401-788-1024 or contact [email protected]
*If you are coming to Pow!Science! for your program, workshop or field trip please bring your invoice with you. Thank-you.